We specialize in the following:
FULL body Chiropractic adjusting
Massage Therapy
Energy Movement
Reflexology
Infrared Light Therapy
Infants and Pregnancy
Auto Accidents
Personal Injury
Activator
Thompson drop table
Full spine
Extremity adjusting
Trigger point work
other techniques
Ask about additional alternative therapies.
Healing only comes from within... never from outside.
The Doctor of Chiropractic unlocks your energies, balances your body and awakens your "inner healer".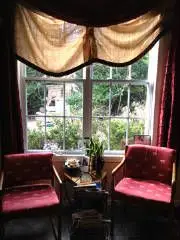 Seating Area